GeekVape Aegis Boost Pod Mod
GeekVape Aegis Boost Pod Mod
Geekvape Aegis Boost Pod Mod, GV Coil system reinforced.40W output power is top level with 1500mAh battery life and 3.7ml liquid capacity.Power efficiency thanks to AS chipset to the highest level removed, less than 0.8 seconds offers a high-end performance and steam experience with ignition. It collects all attention with unusual design. Geekvape Aegis Boost Pod Mod Kit supports the use of Pod and RDTA up to 40W, MTL and DTL shot comes with two separate coils designed for experience.Built-in 1500mAh battery powered, has advanced AS chipset feature and resist impact. It has IP 67 degree of waterproof and dust proof. Durable zinc alloy, alsokitn chassis made of ri and silicone is impressively robust and safe.Cartridge has 3.7ml liquid volume and can be refilled with silicone stopper top filling system. Find the perfect airflow speed for your preferred shooting style can be adjusted from air flow dial.Exceptional electronic cigarette with elegant appearance and original design Geekvape Aegis Boost Pod Mod Kit two separates designed for MTL and DTL shooting experience, supporting the use of Pod and RDTA up to 40W comes with coil. Built-in 1500mAh battery powered, has advanced AS chipset feature and impacts resistant.
PARAMETERS :
Size: 106.8 x 39.2 x 27.7mm

Power Range: 5-40W

Material: Zinc Alloy, Leather and Silicone
Battery Capacity: 1500mAh

Voltage Output Range: 1.0-6.0V

Ignition Speed: 0.08s

Max Power: 40W

Coil

: MESH


Coil: Resistance: 0.6ohm

Charging: Micro USB port

Charge Current: 5V/1.5A

Waterproof, shockproof, suitable for long-lasting use.

Powered by 1500mAh built-in battery and offers you the comfort of use for a long time.

3.7ml capacitance is designed for continuous use with large liquid volume.

Elegant and minimalist design make portable size portable.

Perfectly compatible with Pod and RDTA.

Two coils are available developed for MTL and DL shooting experience.

Resistant to friction and tear.

Easy to use balancing the heating with the filling and air flow cover from the top and the taste taken in this way is also balanced.
PACKAGE TYPE :
1Quantity Geek Vape Aegis Boost Pod Mod

1Pcs 0.6ohm KA1 Mesh Coil

1Drip Type

1Pcs 0.4ohm KA1 Mesh Coil

1Home

det User Manual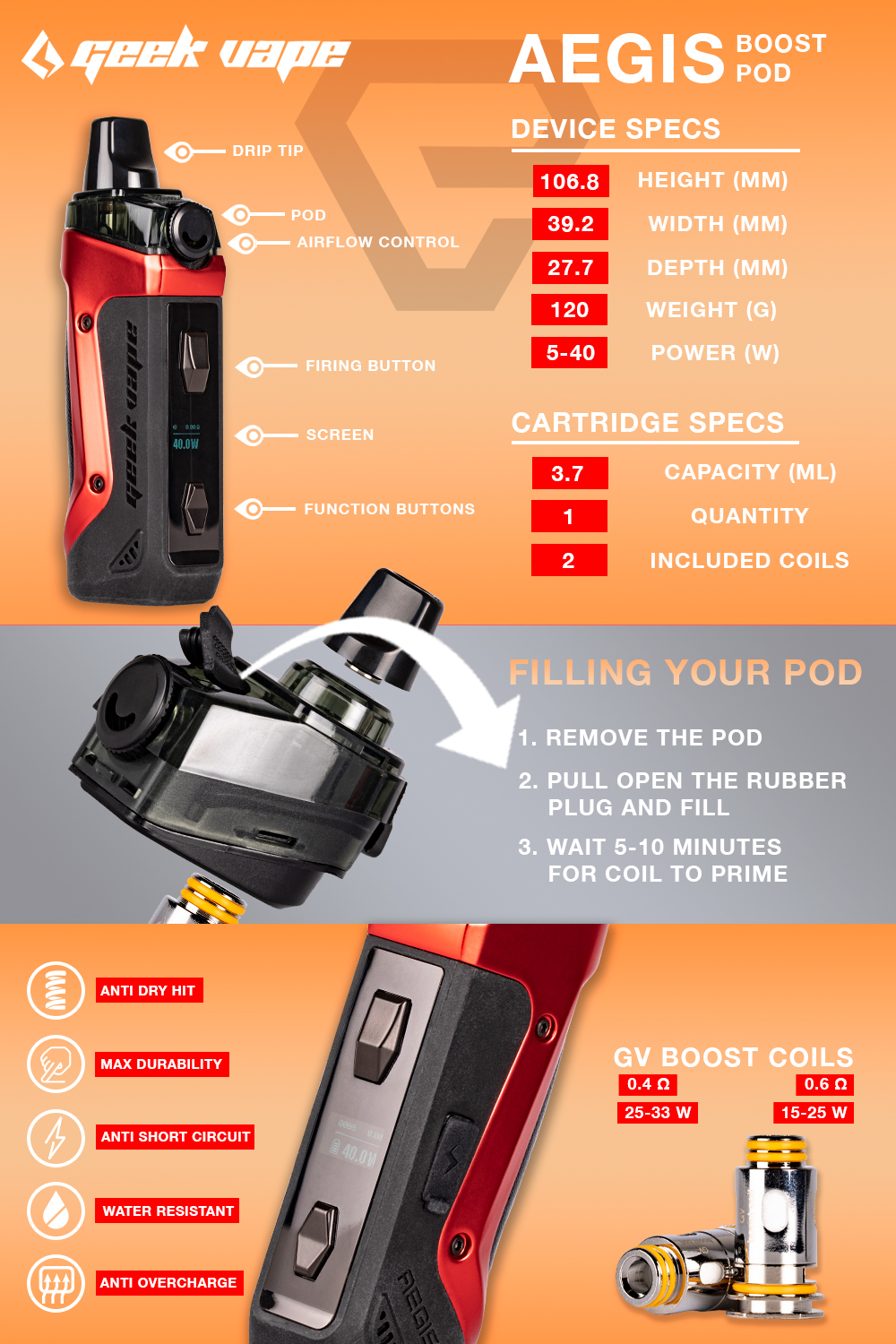 Data sheet
Battery Capacity

1500mAh

Internal Battery

There is

Cartridge

There is

Tank Capacity

3.7 ml

Charging Cable

There is

Charging Cable Type

Mini USB

User guide

There is

watts

40W

Coil

There is
Product Reviews / Q&A
Reviews (7)

All reviews (7)
Excellent (7)
Good (0)
Medium (0)
Poor (0)
Terrible (0)

Latest
Oldest
High rating
Low rating
Helpful